Operating DAC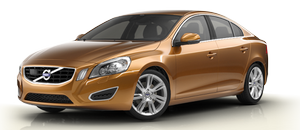 Certain settings can be made from the menu system controlled from the center instrument panel.
The current system status can be checked on the trip computer's display by using the buttons on the left steering wheel lever.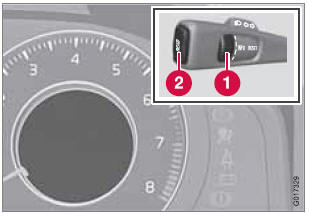 1 - Thumb wheel. Turn this wheel until Driver Alert is displayed. The second line shows the alternatives Off, Driver Alert Standby <40 mph (Driver Alert Standby <65 km/ h), Unavailable or [-----], i.e., the number of bars.
2 - READ button. Confirms and erases a message in the display.
Activating DAC
Press MY CAR in the center instrument panel and go to Car settings Driver Alert and select On. See page 133 for more information on the menu system.

The function is activated when the vehicle exceeds a speed of 40 mph (65 km/h). The display will show level markings of 1–5 bars, where a low number of bars indicates erratic driving. A high number of bars indicates stable driving. If the vehicle is being driven erratically, the driver will be alerted by an audible signal and the message Driver Alert, Time for a break is displayed. The warning will be repeated after a short time if the driving pattern remains the same.

WARNING
An alert should be taken seriously since it is sometimes difficult for a driver to realize that he/she is fatigued.
In the event of a warning or if the driver feels fatigued, stop as soon as possible in a safe place and rest.
See also:
Power moonroof
To operate the moonroof, turn the ignition key to position I or II, or start the engine. The moonroof can be operated in two ways: A Tilt position B Sliding moonroof Tilt position Open: With ...
Standby mode (temporary deactivation)
Press to temporarily deactivate cruise control (put it in standby mode). The set speed, for example 55 mph, is then shown in parentheses. The previously set speed and time interval are resumed by ...
Blower control
Turn the control clockwise to increase or counterclockwise to decrease the blower speed. If AUTO is selected, blower speed will be regulated automatically and this will override manual adjustment. ...