Introduction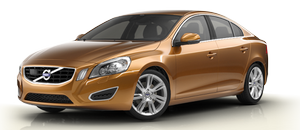 Distance Alert is part of Adaptive Cruise Control and is a function that provides information about the time interval to the vehicle ahead.
Distance Alert is active at speeds above approximately 18 mph (30 km/h). Time interval information is only given for a vehicle that is driving ahead of your vehicle in the same direction. No information is provided for vehicles driving toward you, moving very slowly, or at a standstill.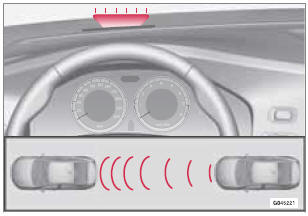 Amber warning light1.
An amber warning light in the windshield glows steadily if your vehicle is closer to the one ahead than the set time interval.

NOTE
Distance Alert only monitors distance to the vehicle ahead while Adaptive Cruise Control is in standby mode or off.

WARNING
Distance Alert only indicates the distance to the vehicle ahead. It does not affect the speed of your vehicle.
See also:
Introduction
The Dynamic Stability and Traction Control system (DSTC) consists of a number of functions designed help reduce wheel spin, counteract skidding, and to generally help improve directional stability ...
Electronic climate control, ECC
Temperature control, driver's side Heated driver's seat* Defroster (maximum effect) Blower Manual air distribution—floor Manual air distribution—dashboard air vents Manual air ...
Main USB menu
USB menu Play/Pause Stop Random Repeat folder Select USB device Change subtitles Change audio track Scan Audio settings ...