The radar sensor and its limitations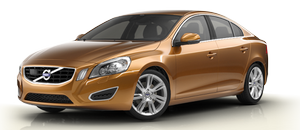 In addition to being used by ACC, the radar sensor is also used by Distance Alert (see page 165) and Collision Warning with Full Auto-brake and Pedestrian Detection (see page 173). This sensor is designed to detect cars or larger vehicles driving in the same direction as your vehicle, in the same lane.

WARNING
Accessories or other objects, such as extra headlights, must not be installed in front of the grille.
Modification of the radar sensor could make its use illegal.
The radar sensor's capacity to detect vehicles ahead is impeded:
if the radar sensor is obstructed and cannot detect other vehicles, for example in heavy rain, or if snow or other objects are obscuring the radar sensor.

NOTE
Keep the area in front of the radar sensor clean.
if the speed of vehicles ahead is significantly different from your own speed.
See also:
Global sales
The first-generation Volvo S60 was launched in 2000. It soon became Volvo Cars' most popular model, enjoying worldwide acclaim and peak sales of 110,000 cars in 2002. In total, there are about one ...
Driver distraction
A driver has a responsibility to do everything possible to ensure his or her own safety and the safety of passengers in the vehicle and others sharing the roadway. Avoiding distractions is par ...
Current fuel consumption (Instantaneous)
Current fuel consumption is calculated every second. The information on the display is updated every few seconds. When the vehicle is stationary, "----" appears on the display. ...