Calibration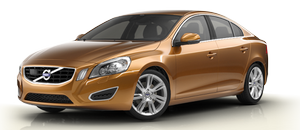 The compass may need to be calibrated if, for example, the vehicle is driven into a new magnetic zone. The character C is shown in the mirror's display if calibration is necessary.
1. Stop the vehicle in a large open area, safely out of traffic and away from steel structures and high-tension electrical wires.
2. Start the vehicle.

NOTE
For best results from calibration, switch off all electrical equipment in the vehicle (climate system, windshield wipers, audio system, etc.) and make sure that all doors are closed.
3. Using a pen or similar object, press and hold the button on the underside of mirror until C is shown again in the mirror(after approx. 6 seconds).
4. Drive as usual. C disappears from the display when calibration is complete.
Alternative calibration method:
Drive slowly in a circle at a speed of no more than 5 mph (8 km/h) until C disappears from the display when calibration is complete.
See also:
Integrated booster cushion
Volvo's own integrated booster cushion has been specially designed to help safeguard a child seated in the rear seat. When using an integrated booster cushion, the child must be secured with the ...
Vehicle Overview
Volvo's smallest sedan, the compact S40, comes in 2.4i and T5 trim levels, the latter offered in all- as well as front-wheel drive. A few years past a full redesign, the S40 and its V50 wagon sist ...
Cleaning the brake discs
Coatings of dirt and water on the brake discs may result in delayed brake function. This delay is minimized by cleaning the brake linings. Cleaning the brake pads is advisable in wet weather, prior ...