From outside the vehicle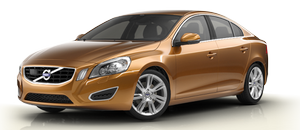 The remote key locks and unlocks all of the doors and the trunk.
Before the vehicle can be locked from the outside with the remote key, the driver's door must be closed. Any other door/trunk that is open will be locked and the alarm will be armed.

NOTE
Be sure the remote key is outside of the vehicle before the other doors/trunk are closed to help avoid locking the remote inside the vehicle.
If the vehicle is equipped with the optional keyless drive system, all doors/trunk must be closed before the vehicle can be locked.
The first press on the unlock button unlocks the driver's door and a second press unlocks the other doors and the trunk (see also page 57). This setting can be changed in the menu system, see page 134.
If the locks repeatedly do not react when the unlock button is pressed, it may be necessary to replace the batteries in the remote, see page 56. In this case the vehicle can be unlocked with the detachable key blade. See page 60.
See also:
Driver distraction
A driver has a responsibility to do everything possible to ensure his or her own safety and the safety of passengers in the vehicle and others sharing the roadway. Avoiding distractions is part of ...
Folding the front seat backrest
Folding the front seat backrest The front passenger seat backrest can be folded to a horizontal position to make room for a long load. Fold the backrest as follows: 1 Move the seat as far back ...
Deposit control gasoline (detergent additives)
Volvo recommends the use of detergent gasoline to control engine deposits. Detergent gasoline is effective in keeping injectors and intake valves clean. Consistent use of deposit control gasolines ...