Location of the keyless drive antennas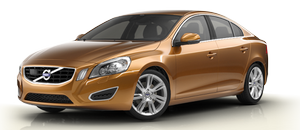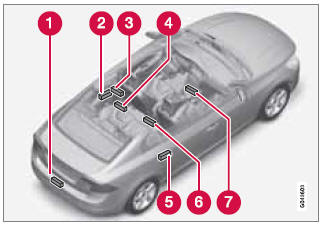 The keyless drive system has a number of antennas located at various points in the vehicle.
1 - On the inside center of the rear bumper
2 - Left rear door handle
3 - Center of the parcel shelf, on the underside
4 - Ceiling, above the center of the rear seat
5 - Right rear door handle
6 - Under the rear section of the center console
7 - Under the front section of the center console.

WARNING
People with implanted pacemakers should not allow the pacemaker to come closer than 9 inches (22 cm) to any of the keyless drive system's antennas. This is to help prevent interference between the pacemaker and the keyless drive system.
See also:
C30 in the Market
I enjoyed my time in the C30, and the more I drove it the more I liked it. The good visibility and decent power (when using the manual shift feature) were the highlights. The downsides are its lim ...
Water on brake discs and brake padsaffects braking
Driving in rain and slush or passing through an automatic car wash can cause water to collect on the brake discs and pads. This will cause a delay in braking effect when the pedal is depressed. To ...
Scanning
SCAN automatically searches through the list of satellite channels. The search will only be carried out in the selected category, see page 215 for more detailed information on the scan functio ...