Location of the keyless drive antennas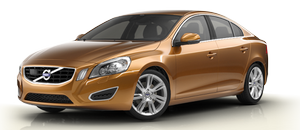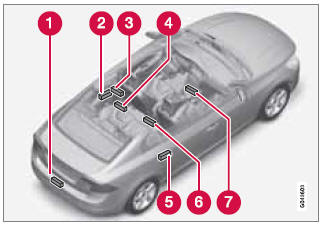 The keyless drive system has a number of antennas located at various points in the vehicle.
1 - On the inside center of the rear bumper
2 - Left rear door handle
3 - Center of the parcel shelf, on the underside
4 - Ceiling, above the center of the rear seat
5 - Right rear door handle
6 - Under the rear section of the center console
7 - Under the front section of the center console.

WARNING
People with implanted pacemakers should not allow the pacemaker to come closer than 9 inches (22 cm) to any of the keyless drive system's antennas. This is to help prevent interference between the pacemaker and the keyless drive system.
See also:
General information
Location of the side impact (SIPS) airbags (front seats only) As an enhancement to the structural side impact protection built into your vehicle, it is also equipped with Side Impact Protection S ...
Air distribution
The incoming air is distributed from a number of different vents in the passenger compartment. Air distribution is fully automatic in AUTO mode. If desired, air distribution can be controlled ...
Refrigerator
The refrigerator is located under the cover in the front seat center armrest. Use the button (see the inset illustration) to adjust the level of cooling. The refrigerator functions when the en ...