Confirmation when locking/unlocking the vehicle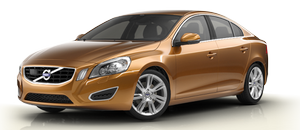 Settings can be made in the menu system for audible and visual confirmation when the vehicle has been locked or unlocked. With these functions activated, the following will occur when the vehicle is locked/unlocked:
Locking confirmation
The turn signals flash once, an audible signal sounds and the door mirrors will fold* in.
Confirmation will only be given when all doors and the trunk are properly closed and locked.

NOTE
If you do not receive confirmation when locking the vehicle, check whether a door or the trunk is ajar, or if this feature has been turned off in the menu.
Unlocking confirmation
The turn signals will flash twice and the door mirrors will fold* out.
Making a setting
Different alternatives for locking/unlocking confirmation can be selected in the menus by pressing MY CAR on the center console control panel.
To activate visual confirmation: go to Settings - Car settings - Light settings and select Door lock confirmation light and/or Unlock confirmation light by pressing OK/ MENU.
To activate audible confirmation: go to Settings Car settings Lock settings and select Audible confirmation by pressing OK/MENU.
See page 133 for a description of the menu system.
Lock indicator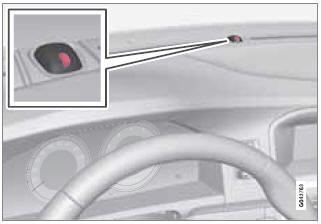 Lock/alarm indicator light
A flashing indicator light at the base of the windshield verifies that the vehicle is locked.
See also:
Overview of Bluetooth® controls
Center console control panel 1 VOLUME: the buttons on the steering wheel keypad can be also be used. 2 Display 3 ENTER: press to answer an incoming call, make menu selections or activate the p ...
Service position
Wiper blades in service position The wiper blades must be in the vertical (service) position for replacement, washing or to lift them away from the windshield when e.g., removing ice or snow. T ...
Roof loads
Using load carriers Load carriers are available as Volvo accessories. Observe the following points when in use: • To avoid damaging your vehicle and to achieve maximum safety when driving, we r ...