Wiper blades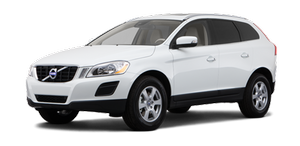 The windshield wiper blades are different lengths. The blade on the driver's side is longer than the one on the passenger side.
Service position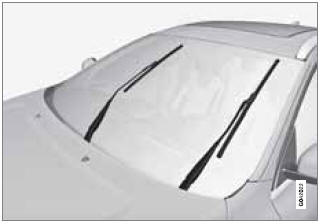 Wiper blades in service position
The wiper blades must be in the vertical (service) position for replacement, washing or to lift them away from the windshield when e.g., removing ice or snow. To put them in this position:
1. While sitting in the driver's seat, close the driver's door.
2. Insert the remote key in the ignition slot1 3. Put the ignition in mode II (see page 82).
4. With the remote key in the ignition slot, put the ignition in mode 0.
5. Move the right steering wheel lever up and hold it for at least 1 second. The wipers will then move to the vertical (service) position on the windshield.
The wipers can be returned to the normal position by briefly switching on the ignition (or by starting the engine).
Replacing the windshield wiper blades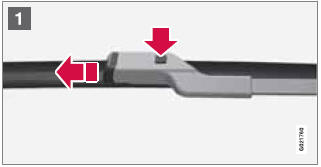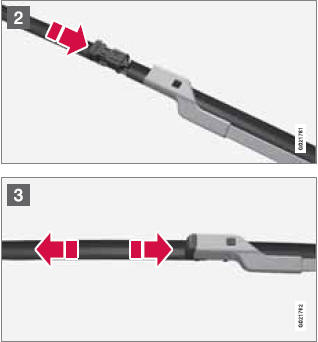 1 With the wipers in the service position, fold out the wiper arm from the windshield.
Press the button on the wiper blade attachment and pull the wiper blade straight out, parallel with the wiper arm.
2 Slide in the new wiper blade until it clicks into place.
3 Check that the blade is securely in place.
Cleaning
Keeping the windshield and wiper blades clean helps improve visibility and prolongs the service life of the wiper blades. Clean the wiper blades with a stiff-bristle brush and lukewarm soap solution or car washing detergent.
Replacing the tailgate wiper blade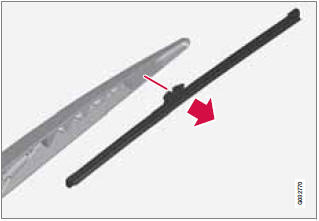 1. Fold the wiper arm outward.
2. Grasp the inner section of wiper blade (at the arrow).
3. Pull out the blade to release it from the wiper arm.
4. Press the new wiper blade into place and check that it seats securely.
5. Fold the wiper arm back toward the tailgate window.
See also:
Dialing from a call list
The dialogue below enables you make a call from one of your cell phone's call lists. The user initiates the dialogue by saying: Phone > dial from call list or Phone dial from call list Conti ...
Voice control support features
Tutorial: A feature that helps acquaint you with the system and the procedure for giving commands. Training: A feature that enables the voice control system to become familiar with your voi ...
Checking and adding oil
Location of the filler cap and dipstick Volvo recommends Castrol oil products NOTE Before checking the oil: The car should be parked on a level surface. If the engine is warm, wait f ...