Turn signals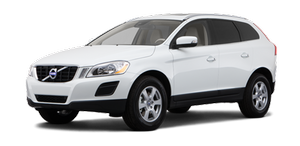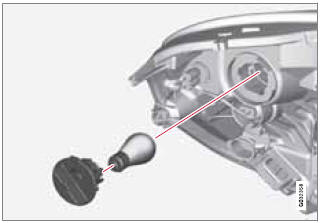 1. Remove the headlight housing from the vehicle (see page 322).
2. Remove the bulb holder by turning it counterclockwise and pulling it out of the headlight housing.
3. Pull out the holder to access the bulb.
4. Remove the burned out bulb by pressing it in slightly and turning it counterclockwise.
5. Press the new bulb into the holder and turn it clockwise.
6. Reinsert the bulb holder into the headlight housing and turn it clockwise.
7. Reinstall the headlight housing.
See also:
Listening to the radio
You can also listen to the infotainment system's radio through the RSE system. 1. Switch on the cordless headphones, select CH.A for the left screen or CH.B for the right screen. 2. Point the ...
Navigating in the menus
Infotainment settings are made via the system's menus. Press one of the mode buttons (RADIO, MEDIA, or TEL—see the illustration on page 206) to select it and access its specific menus. When a ...
RSE front screen menus
To access this menu, begin by selecting RSE under MEDIA by pressing this button on the front center console (or by using the remote control or the steering wheel keypad). Continue by pressing ...