Erasing warning messages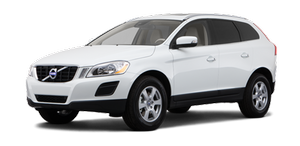 When a low tire pressure warning message has been displayed, and the tire pressure warning light has come on:
1. Use a tire pressure gauge to check the inflation pressure of all four tires.
2. Re-inflate the tire(s) to the correct pressure (consult the tire pressure placard or the inflation pressure table on page 291.
3. In certain cases, it may be necessary to drive the vehicle for several minutes at a speed of 20 mph (30 km/h) or faster. This will erase the warning text and the warning light will go out.
WARNING
Incorrect inflation pressure could lead to tire failure, resulting in a loss of control of the vehicle.
See also:
Tire inflation
Check tire inflation pressure regularly. See the tire inflation table on page 275. A tire inflation pressure placard is also located on the driver's side B-pillar (the structural member at the ...
Jump starting
Follow these instructions to jump start your vehicle's dead battery or to jump start another vehicle's dead battery using your vehicle. Although your vehicle's battery is located under the flo ...
Random
This function plays the tracks in random order (shuffle). The random tracks/sound files can be scrolled through in the normal way. To listen to tracks in random order: 1. Press OK/MENU, 2. Tur ...