Changing a wheel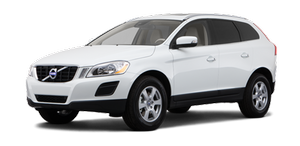 1. Apply the parking brake and put the gear selector in P.
2. Take out the jack*, lug wrench*, the towing eyelet and the wheel cover removal tool* stowed under the floor of the trunk.
3. Remove the wheel cover (where applicable) using the removal tool or remove the wheel cover by hand.
4. Block the wheels that are on the ground with wooden blocks or large stones.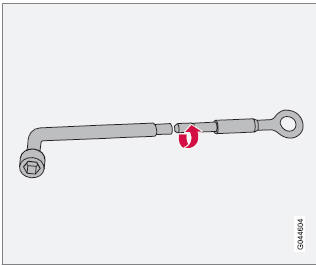 Lug wrench and towing eyelet
5. Screw the towing eyelet into the lug wrench as shown in the illustration.
CAUTION The towing eyelet must be screwed into the lug wrench as far as possible.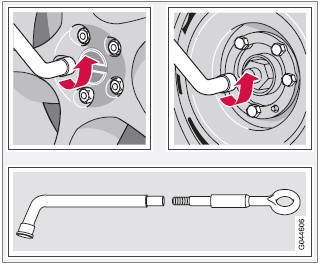 6. With the vehicle still on the ground, use the lug wrench/towing eyelet to loosen the wheel nuts ½ Ц 1 turn by exerting downward (counterclockwise) pressure.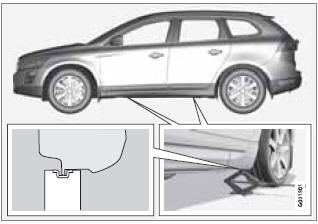 Jack attachment points
7. There are two jack attachment points on each side of the vehicle. Position the jack correctly in the attachment (see the illustration) and crank while simultaneously guiding the base of the jack to the ground.
The base of the jack must be flat on a level, firm, non-slippery surface. Before raising the vehicle, check that the jack is still correctly positioned in the attachment.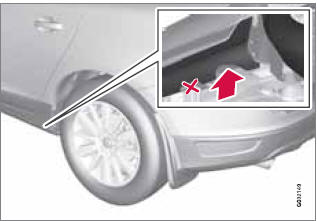 WARNING
There are two attachment points near the rear of the vehicle. Only the rear-most attachment point is intended for the jack (see the illustration).
8. Raise the vehicle until the wheel to be changed is lifted off the ground.
9. Unscrew the wheel nuts completely and remove the wheel.
WARNING
Х The jack must correctly engage the jack attachment.
Х Be sure the jack is on a firm, level, nonslippery surface.
Х Never allow any part of your body to be extended under a vehicle supported by a jack.
Х Use the jack intended for the vehicle when changing a tire. For any other job, use stands to support the vehicle.
Х Apply the parking brake and put the gear selector in the Park (P) position.
Х Block the wheels standing on the ground, use rigid wooden blocks or large stones.
Х The jack should be kept well-greased and clean, and should not be damaged.
Х No objects should be placed between the base of jack and the ground, or between the jack and the attachment bar on the vehicle.
See also:
Driving dynamics: chassis
The Volvo XC70 is equally adept at powering down muddy slopes, towing a boat up a slippery ramp or cruising on the motorway. 'Here is a cross-country vehicle that is extremely capable off-road yet ...
Glossary of tire terminology
The tire suppliers may have additional markings, notes or warnings such as standard load, radial tubeless, etc. Tire information placard: A placard showing the OE (Original Equipment) tire si ...
Shiftlock override
If the vehicle cannot be driven, for example because of a dead battery, the gear selector must be moved from the P position before the vehicle can be moved. 1 Lift away the rubber mat on the ...