Replacing the sealing compound container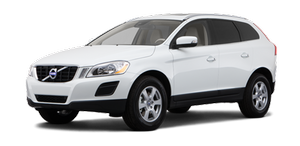 The sealing compound container must be replaced if:
• the tire sealing system has been used to repair a tire.
• the container's expiration date has passed (see the date on decal).
NOTE
• After use, the sealing compound bottle, the hose, and certain other system components must be replaced. Please consult your Volvo retailer for replacement parts.
• If the sealing compound bottle's expiration date has passed, please take it to a Volvo retailer or a recycling station that can properly dispose of harmful substances.
See also:
Periodic maintenance helps minimize emissions
Periodic maintenance will help keep your vehicle running well. Your Warranty and Service Records Information booklet provides a comprehensive periodic maintenance schedule up to 150,000 miles ...
Rally bar R-Design models
Rally bar and bulkhead hatch Vehicles with the optional R-Design package are equipped with a rally bar in the engine compartment that must be removed before the battery can be replaced. 1. Remov ...
Use of Additives
With the exception of gas line antifreeze during winter months, do not add solvents, thickeners, or other store-bought additives to your vehicle's fuel, cooling, or lubricating systems. Overuse ...