Tire age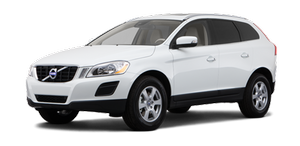 Tires degrade over time, even when they are not being used. It is recommended that tires generally be replaced after 6 years of normal service. Heat caused by hot climates, frequent high loading conditions or Ultra Violet (U.V.) exposure can accelerate the aging process.
The temporary spare1 should also be replaced at 6-year intervals, even if it has never been used.
A tire's age can be determined by the DOT stamp on the sidewall (see the illustration).
A tire with e.g., visible cracks or discoloration should be replaced immediately.
See also:
More information about pairing and connecting cell phones
A maximum of 10 cell phones can be paired with the hands-free system. Pairing only needs to be done once for each phone. After pairing, the cell phone no longer needs to be in sight or discoverabl ...
Streaming audio
The vehicle's media player is equipped with Bluetooth and can play streaming audio files from a Bluetooth device such as a cell phone or personal digital assistant (PDA). Navigation and contro ...
Temporary Spare
A spare tire can be purchased for your vehicle as an accessory. Follow the instructions included with the spare tire regarding use and stowing in the vehicle. See also page 290 for additional info ...