Tire age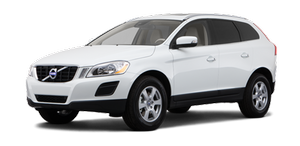 Tires degrade over time, even when they are not being used. It is recommended that tires generally be replaced after 6 years of normal service. Heat caused by hot climates, frequent high loading conditions or Ultra Violet (U.V.) exposure can accelerate the aging process.
The temporary spare1 should also be replaced at 6-year intervals, even if it has never been used.
A tire's age can be determined by the DOT stamp on the sidewall (see the illustration).
A tire with e.g., visible cracks or discoloration should be replaced immediately.
See also:
Deactivation
Move the gear selector from R to another position. There is a slight delay in the PAC system, which means that the view from behind the vehicle will remain on the screen for approximately 15 se ...
Unlocking
1. Insert the remote key into the ignition slot as far as possible. 2. Press the START/STOP ENGINE button. > A sound will be audible when the lock releases. Vehicles with keyless drive* A r ...
Rear park assist
The distance monitored behind the vehicle is approximately 5 ft (1.5 m). The audible signal comes from the rear speakers. The system must be deactivated when towing a trailer, carrying bicycles i ...