Function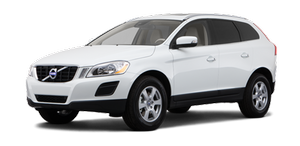 A vehicle towing a trailer may begin to sway for various reasons. Normally this only occurs at high speeds but, for example, if the trailer is overloaded or if the load is unevenly distributed in the trailer, there is risk of swaying at speeds between approximately 45-55 mph (70-90 km/ h).
Swaying may be caused by factors such as:
Х The vehicle and trailer are hit by a sudden, strong crosswind
Х The vehicle and trailer are traveling on an uneven road surface or drive over a bump
Х Sudden movements of the steering wheel
See also:
How HD broadcasting works
HD Radio works similarly to conventional radio and broadcasts of this type are available in many areas of the United States. However, there are a few key differences: Х Instead of transmitting ...
Label information
1 Model plate: includes e.g., Vehicle Identification Number (VIN), codes for color and upholstery, etc. The model plate is located on the rear side of the B-pillar (the pillar between the front ...
Driving Dynamics: Engines
The new Volvo V50 Sportswagon is available with a range of eight modern engines, including three diesels, that reflect its role as a premium alternative. Two engines joined the range for 2007: a 1 ...