Selecting a source for the rear screens from the front center control panel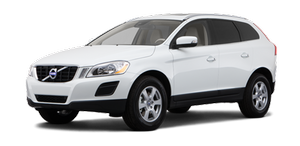 An audio/video source for the rear screen(s) can be selected from the front center control panel. The same source can be selected for both rear screens or different sources can be selected for the respective screens.
1. Press MEDIA several times to come to RSE on the front screen. Wait several seconds for your selection to be confirmed.
2. Turn TUNE to select one or both of the rear screens and confirm by pressing OK/ MENU.
3. Turn TUNE to select RADIO, MEDIA (or RSE settings). Press OK/MENU to confirm.
4. Turn TUNE to the desired source (for example, Disc) and confirm by pressing OK/MENU. The selected source will begin playing automatically (if there is a disc in the media player).
Cancel and return by pressing EXIT.
Settings can also be made with the remote control. See page 254 for more detailed information.
See also:
Listening to satellite radio
The Sirius satellite system consists of a number of high elevation satellites in geosynchronous orbit. NOTE The digital signals from the Sirius satellites are line-of-sight, which means ...
Replacing batteries in the remote key/PCC
The battery/batteries in the remote key/PCC should be replaced if: • The information symbol lights up and a text appears in the information display. and/or • the vehicle's locks repeatedly do n ...
Chassis, steering and brakes
Excellent driving dynamics was a priority for the new Volvo C70. Convertible cars are renowned for poor structural rigidity - which hurts handling response, refinement and safety. By contrast, the ...