Selecting a source for the rear screens from the front center control panel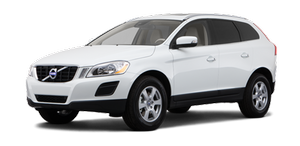 An audio/video source for the rear screen(s) can be selected from the front center control panel. The same source can be selected for both rear screens or different sources can be selected for the respective screens.
1. Press MEDIA several times to come to RSE on the front screen. Wait several seconds for your selection to be confirmed.
2. Turn TUNE to select one or both of the rear screens and confirm by pressing OK/ MENU.
3. Turn TUNE to select RADIO, MEDIA (or RSE settings). Press OK/MENU to confirm.
4. Turn TUNE to the desired source (for example, Disc) and confirm by pressing OK/MENU. The selected source will begin playing automatically (if there is a disc in the media player).
Cancel and return by pressing EXIT.
Settings can also be made with the remote control. See page 254 for more detailed information.
See also:
Six-speed manual transmission
The manual six-speed gearbox provides good tractive power in each gear in order to combine rapid acceleration with high top speed. All Wheel Drive (AWD) for enhanced stability All Wheel Drive is ...
Use of Additives
With the exception of gas line antifreeze during winter months, do not add solvents, thickeners, or other store-bought additives to your vehicle's fuel, cooling, or lubricating systems. Overus ...
Messages
When a warning, information or indicator symbol comes on, a corresponding message appears on the information display. An error message is stored in a memory list until the fault is rectified. P ...